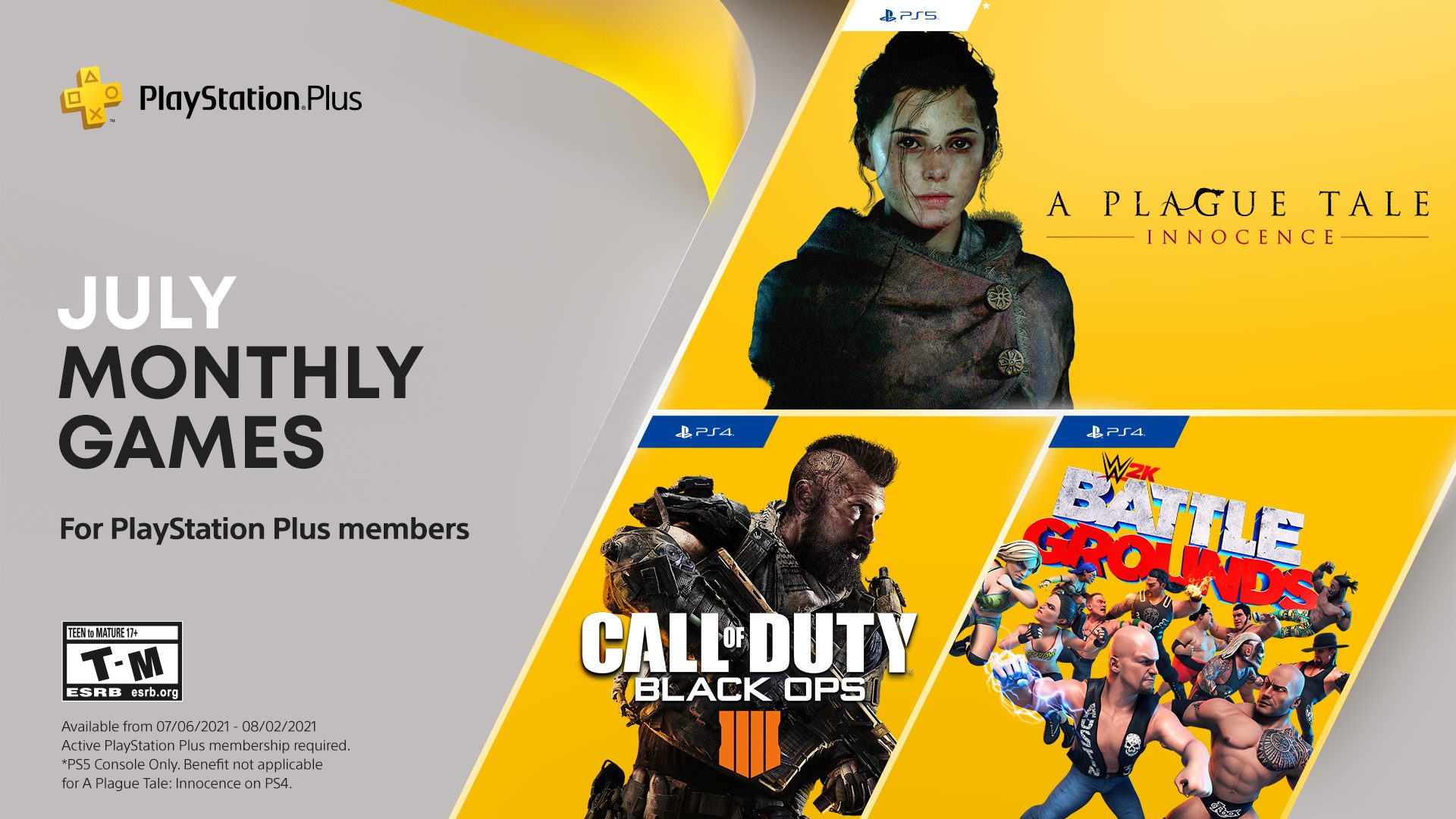 ---
The PlayStation Plus July lineup packs in thrilling firefights, wrestling superstars, intense horror, and martial arts action. Whether your tastes lie with first-person shooters (Call of Duty: Black Ops 4), over the top arcade punch ups (WWE 2K Battlegrounds), third-person survival horror (A Plague Tale: Innocence) or battling your way up global leaderboards (Virtua Fighter 5 Ultimate Showdown), PlayStation Plus next month has something for you. Call of Duty: Black Ops 4, WWE 2K Battlegrounds, and A Plague Tale: Innocence are available to add to your console library starting Tuesday, July 6 until Monday, August 2. And if you missed it last month, Virtua Fighter is available on PlayStation Plus for a second month, and is available to PlayStation Plus members until Monday, August 2.
Let's take a closer look at each.
Call of Duty: Black Ops 4 delivers a trio of action-packed multiplayer-modes* for first-person shooter fans. First there's the series' iconic multiplayer experience pitting players against each other worldwide. Second, is the fan-favourite Zombies experience, letting you and friends battle the undead. Last but not least is Blackout, an intense large-map mode inspired by battle royale. Blackout brings together characters, locations, weapons and gear from across the series in all-out survival combat – all with a unique Black Ops twist.
The world of WWE is your battleground with over-the-top, arcade action as your favorite WWE Superstars and Legends battle in interactive environments around the world. Play through a new story mode while unlocking unique characters and Battlegrounds. Compete using special abilities and power-ups in match types like Steel Cage, Royal Rumble, and more! Compete in Online Tournaments or stake your claim as King of the Battleground against players from around the world!* Plus, battle it out in local multiplayer and dominate your friends.
The critically acclaimed adventure releases on PS5 with 4K native resolution***, targeted 60 FPS, highly improved visuals, and fast loading – and makes its debut onto PlayStation Plus. Follow the tale of young Amicia and her little brother Hugo, in a heartrending journey through the darkest hours of history. Hunted by Inquisition soldiers and surrounded by unstoppable swarms of rats, Amicia and Hugo will come to know and trust each other. As they struggle to survive against overwhelming odds, they will fight to find purpose in this brutal, unforgiving world.
These three new releases are also joined by Virtua Fighter 5 Ultimate Showdown, as Sega's beat'em up enjoys its second month on PlayStation Plus. If you missed it in June, here's what you need to know:
Sega's iconic one-on-one battler gets remade for a new generation by Yakuza and Judgment developer Ryu Ga Gotoku Studio. This console exclusive allows both VF veterans and newcomers to experience the intense martial arts combat, deep strategy, and intricately balanced gameplay of the groundbreaking 3D fighter in stunning HD. New online features* – like custom tournaments supporting up to 16 players and live spectating – join classic modes like Rank Match, Arcade, and VF5's famously robust Training to deliver the definitive Virtua Fighter experience.
As some games join, others leave. You've until Monday July 5 to add Star Wars: Squadrons and Operation: Tango to your game library. Make sure not to miss either!
**Benefit not applicable for A Plague Tale: Innocence on PS4 consoles.