With all the time I spend at my desk these days, I made some changes to my setup this year to better accommodate me using it for both work and entertainment. A laptop docking setup to enable its full potential while working during the day. To a PC gaming setup while taking breaks, or relaxing on the big screen to some console games, a movie or a show. Hi I'm Davine and this is my updated Dream Desk Setup for both work and play. First and foremost my desk setup is designed to be productive.
And generally most of that is done on my older laptop. Similar to one of my older videos, I have my laptop docked on a monitor arm for additional flexibility. It allows me to easily access ports and power the laptop, I can reposition the built-in webcam for a better angle, and for late at night emails and meetings I can easily check in while occupied with other matters.
And when I'm done it moves out of the way and keeps the desk clutter free. The setup I'm specifically using consists of an Amazon Basic laptop tray connected to this expensive but modern looking Ollin Monitor Arm.
To connect the laptop to the rest of my peripherals I bought this Anker Thunderbolt Docking Station. From this dock I can connect my USB keyboard, mouse, wired network, charge the laptop and connect that giant Sony 55 inch OLED TV but more details on that later. I also swapped out the included 70cm Cable with a longer 2 meter Cable so I can route it along the entire arm and handle the height of my standing desk. But keep in mind this cable length reduces the bandwidth in half but that isn't an issue for my single display setup. I'll also note that the dock does runs hot, the power brick is huge, and my older XPS laptop only support a max 65W charging from 3rd party chargers like this but other than that it's been working fine for this setup.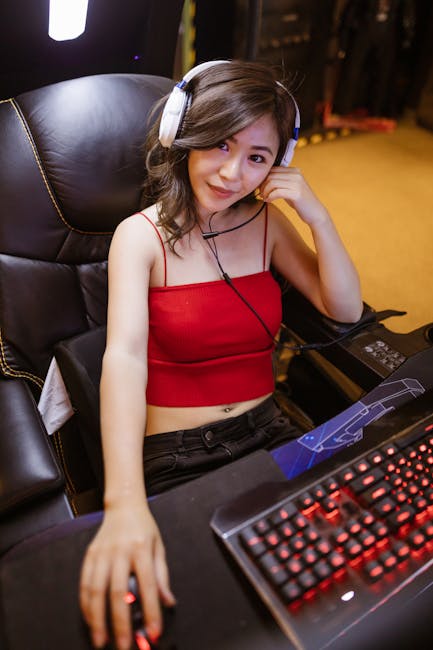 And just like in my older setup, In order to use my keyboard and mouse on both my desktop and laptop. I use this Ugreen USB switch that's wired to both my systems. This allows me to quickly switch my keyboard and mouse between the two devices with a simple click. Another important part to my productivity setup is the display. And what I'm using here is the Sony A80J 55 Inch TV: BRAVIA XR OLED 4K Ultra HD Smart Google TV with Dolby Vision HDR and Alexa Compatibility
as my monitor screen.
At 48 inches screen with 4K resolution, it is big the first time you put it on your desk but if you really think about it, it basically like having multiple 24 inch 1080p display with two of them in portrait mode on the side. So utilizing the screen with multiple small applications tiled across the display is a great way to utilize it for multitasking. Or you can also simulate an ultrawide screen for tasks like video editing. To make this TV work a little better as Monitor, I swapped the default stand to this Ergotron HX monitor arm with a VIVO adapter.
This allows me to push the TV back a little further and adjust the height and angle to better suit my needs. And since I don't really use applications in full screen, I bought this app called Wallpaper engine to animate the background. Using this there are some pretty interesting animations that you can use to show off the screen while idle. But I prefer a subtle particle effect or waves that's less distracting while working. To be honest while using this TV for productivity works well for my needs, if that was my only priority, I probably would have just stuck to my previous 49 inch super ultrawide for that higher pixel density and wider aspect ratio.
But where this Sony TV really excels is the versatility to switch over and provide an unmatched entertainment and gaming experience. The OLED panel with those self-lit pixels are gorgeous for those vivid colors and perfect blacks and having a large 16 by 9 screen means I can kick back and immerse myself with typical videos. That chair I'm sitting on is the Logitech and Herman Miller Embody collaboration. It's not perfect for lounging like this, where a headrest would have been nice, and sometimes I wish it would lean back a little more. Also, I do keep an ottoman nearby for better leg comfort too.
But for PC gaming sitting upright with a keyboard and mouse, it's a comfortable chair but with some caveats and an expensive price tag. Speaking of the keyboard and mouse, I bought the Logitech G915 Ten keyless keyboard. And I really like this keyboard but have the same complaints as everyone else, this being super expensive at $300 US, and that it still use Micro USB for charging, but there's nothing else like it in the market with the low profile clicky mechanical key and lightspeed wireless for low latency gaming.
Same thing goes for that Sony OLED TV for PC gaming. It's pricey at $1699 but for now there is a great deal at Amazon they have it for only $1,398 a huge savings of $301.99 with all the features you will get with HDMI 2.
1 support for 4K 120Hz, Gsync and FreeSync support, and high quality HDR with that OLED panel. There isn't anything else like it. For my PC I'm still waiting to get my hands on those new GPUs for full HDMI 2.1 support. But for now with my current 1080 ti, I'll either play games in a custom ultrawide resolution, or for faster paced games I'll switch to 4K 120Hz that has Chromasubsampling, turn BFI on, and just play games in windowed mode.
I also use this setup to play on my PS4 or Nintendo switch. So with all these consoles, docks and a PC I put together this rack system with a IKEA besta unit. It's still a little work in progress where I've left room potentially for a new console, I might look for better computer case that designed to sit horizontally, I have a bit of clean up to do with all the cables shoved in the bottom.
But overall I'm pleased with how I'm able to consolidate everything cleanly together and have a little extra table space. So that wraps up my updates to my dream desk setup for 2022.
A place where I can work from home, do some gaming and escape to relax; all in a clean and minimal space. But hope you guys enjoyed this one. You know what to do. And I'll see you in the post.